Achala is a 40-year-old female security officer working at a textile factory in the Industrial Zone of Seethawaka, Sri Lanka.
With family commitments and long commutes to the workplace, her daily routine starts at 4 am and doesn't end until past 10 pm. Like many Sri Lankan women, Achala puts her family and her work first, leaving little time or money to tend to her own well-being.  
Textile manufacturing remains one of Sri Lanka's key industries. As such, the textile manufacturing plants continued to function even during Covid 19 lockdowns through most of 2021. This put thousands of factory workers at an increased health risk, with limited access to hospitals and medical services.  
Had it not been for the free monthly mobile clinics facilitated at the factory by the Family Planning Association of Sri Lanka (FPASL), Achala would have never had access to important health services during stressful lockdown times. Nor would she have known the importance of health screening or her family planning options. "I've had two children, but nobody has told me about these things before. They told me about contraception. I have never had time to go to a hospital. I had my first ever pap smear and breast exam here", she says, referring to the room at the factory that's converted to a private examination space for women on clinic days.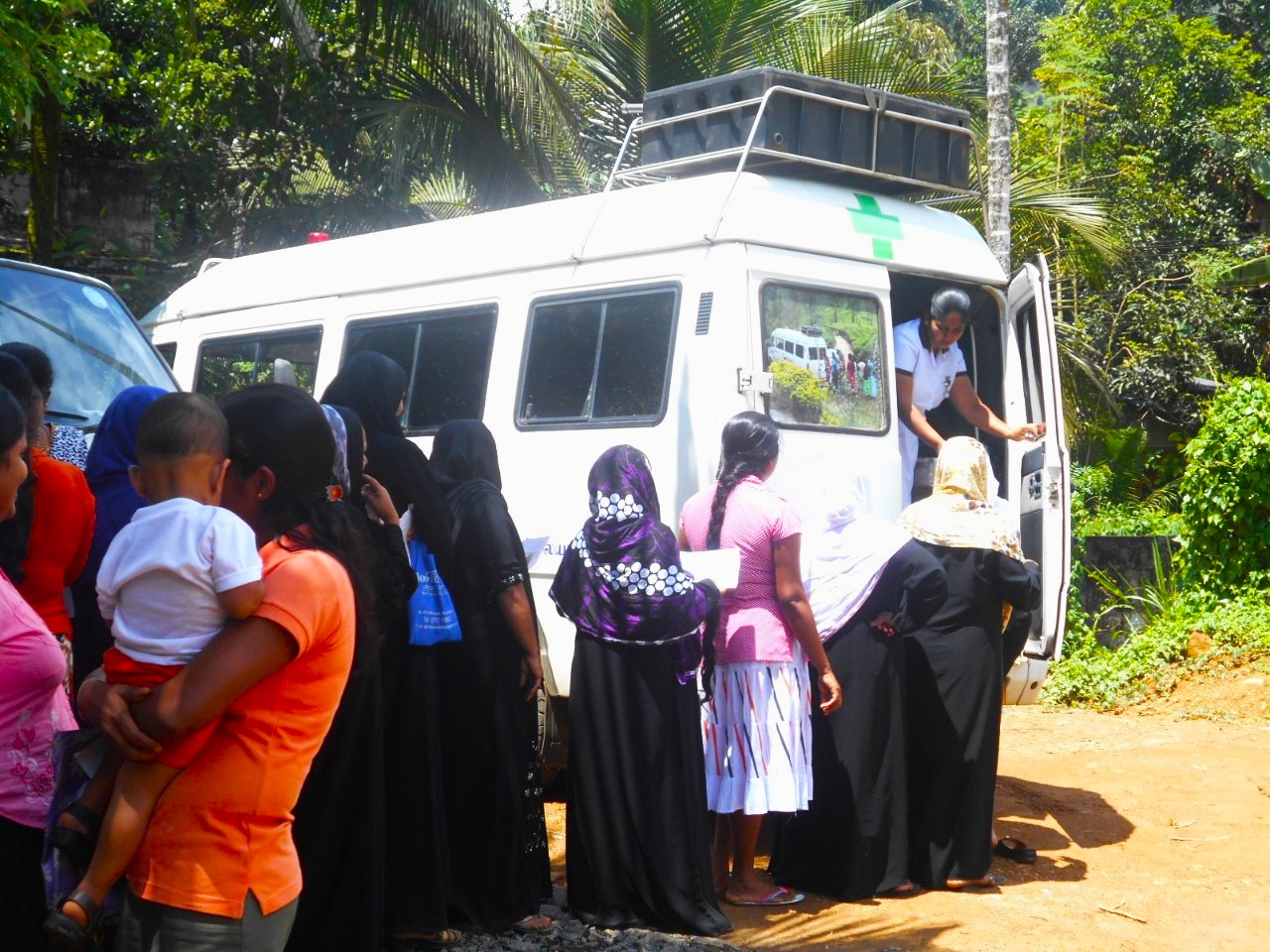 Like Achala, many women working in the zones cannot enjoy the benefit of traditional home visits made by Health Assistants. Most employees also happen to be migrants, living away from home in boarding facilities. These women who need services cannot access regular clinics during working hours due to work commitments. It is even more inaccessible due to COVID-19 lockdowns.
FPA Sri Lanka's RESPOND mobile clinic, particularly in the Industrial Zones, addresses the needs of this key group.
Participation at the mobile clinics is highest during work hours when clients can conveniently access care. The same family planning services available at the Centre for Family Health in Colombo are available at these mobile clinics. The services also include cancer screening via Pap smear and manual breast examination, counselling on sexual health, gynaecological concerns, and STI/HIV and infertility support. A range of free testing services is also offered, including tests for diabetes, blood pressure and BMI testing.
The mobile clinics proved to be invaluable to many - specifically during the pandemic. The lockdowns resulted in many barriers to hospital access. The clinics' role in distributing COVID-19 Personal Protective Equipment (PPE) such as masks, gloves and sanitisers was vital.
FPASL understands the high potential of mobile clinics. These clinics offer the ability to reach communities directly. Urgent care and preventative health screenings are made available easily and on demand. Mobile clinics have enabled the organisation to care for vulnerable populations during uncertain and unstable times. They have also enabled SRH service access to many people who were otherwise unable to attend the static clinics even before the pandemic.
Apart from garment manufacturing factories, FPA Sri Lanka also recognises other groups that lack access to essential SRH services. These are the poor, marginalised and stigmatised who still don't get the care they need because of a lack in infrastructure. Efforts are mostly directed towards these groups. Mobile clinics that offer sexual and reproductive healthcare access is taken to where the need is greatest - i.e. urban slums, rural communities, special occupational groups, workers on tea plantations and in factories.  
Two such mobile clinics were made available in Sri Lanka's eastern district of Batticaloa and central district Nuwaraeliya. This was during the COVID-19 lockdown period, amidst all the challenges faced by the staff (not being able to come by public transport).
In the rural mountainous areas of Nuwaraeliya in particular, the mobile clinics operate in the form of a bus completely kitted out to mimic a fully functional examination room. This room has the capacity for 140 screenings a day, with facilities to provide SRH services. It has 9 staff in attendance.
The mobile clinic has been able to meet the SRHR needs of 5,616 clients since the launch of the RESPOND program one year ago.In close collaboration with the Ministry of Health, the mobile clinic offers a full range of services. These include gynecological, contraceptive, counselling, ANC, PNC, lab tests, and subfertility services.During the pandemic, contraceptive services became especially valuable to rural residents, enabling them to access Depo-Provera, IUCDs, Jadelle, condoms, and other contraceptive methods conveniently. 
The success of the mobile clinic model in lockdown periods became fortuitous during the country's more recent national crisis.
The economic downfall of Sri Lanka resulted in a severe shortage of fuel, medicines, food, and other basic needs throughout the country. This, along with stress of inflation, has had a direct impact on service provision and activity implementation.
Even to operate at a time when many people struggled to travel to hospitals or visit doctors was a challenge. FPASL needed special government permission that recognised the essential nature of the mobile clinics, in order to obtain sufficient fuel. A total of 39 mobile clinics were conducted during this period, overcoming insurmountable challenges to provide vital healthcare services to those who need them most.
The smoothe function of mobile clinics remain challenged even now. High transport costs impact the mobile camps' ability to reach very remote areas. Power outages or unavailability of water or electricity to connect equipment to is a constant challenge. There are also medicine shortages and medical staffing difficulties.
However, the service has continued to adapt, innovate, and evolve to overcome these barriers. Slowly but surely, it has fast become one of FPA Sri Lanka's most notable endeavors to provide SRHR for all despite the ongoing political turmoil.